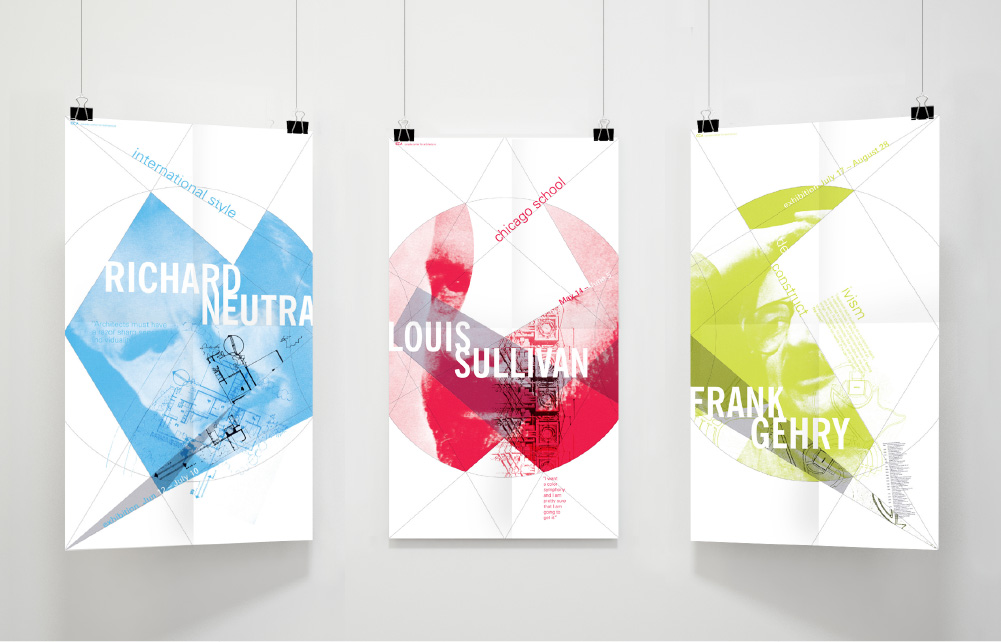 This poster triptych was designed utilizing a system and geometric based approach towards design. The format is based on a root three rectangle whose properties lend themselves well to triptychs due to the fact that they are created from hexagonal measurements and three root three rectangles next to one another create a larger rectangle of the same proportions, often called dynamic proportions. Additionally, each architect featured employed dynamic proportions, often found in nature, in there work in novel ways.
This series was a study in systems-based design in which design systems were carried out in color, typography, structure as well as image treatment to create cohesion between all three posters while differentiating them as stand-alone designs.
Mono/Duotone Color System
My color palette consisted of four spot colors. Each individual poster used one spot color and Pantone Black 6 C. All color variation was created by utilizing monotone or duotone images using the spot color + black or layering semi-transparent fields of pure color. The geometric grid structure across the triptych uses Pantone Black 6 creating a unifying skeleton for all three posters while the individual spot colors allows each poster to stand apart as a single unit.
The architect's eye
An architects critical eye and visual sensibility is one of their most important design tools. In all three poster I used the eye in the architect's portrait as that focal point for an otherwise abstracted portrait image.